Stubble burning issue:
Stubble burning by farmers in Punjab, Haryana and Delhi region has lead to a major environmental hazard in the region, particularly in the National Capital Region.

Stubble burning leads to the emission of harmful gases like NO2, SO2, CO and particulate matter and contributes to the formation of ground level ozone.
The area faces the issue of 'smog', or smoke and fog every year during the onset of the spring season.
The Air Quality Index or AQI rises to severe levels (400 or more in Delhi and its neighbourhood).
Measures to control stubble burning:
Previously, recognizing the harmful effect of stubble burning, there have been a number of initiatives taken by the government to control stubble burning.
Regulatory regime:
India's Supreme Court has issued a blanket ban on stubble burning in Punjab, Haryana and UP. There is the need to take strict action against non-compliance reported from the field.
Support for farmers:
Despite a ban on stubble burning in Punjab and Haryana, farmers continue to defy it as there is a short window between harvesting of paddy and sowing of wheat. The high cost of manual or mechanical management of straw is a major reason why farmers choose to burn it. This necessitates the government to ensure supportive policies to the farmers.
State governments are providing 50 to 80 per cent subsidy to farmers and cooperative societies to buy modern farm equipment for in-situ management of paddy straw.

This could involve equipment like balers, super straw management system (SMS), chopper cum shredder, happy seeder machines, which are used for direct sowing without ploughing.
The use of super SMS with combined harvester helps facilitate the management of crop residue. It is attached to the rear of a combined harvester and uniformly spreads loose straw on the field. With this method, farmers are not required to burn the straw before sowing the next crop.

Additionally, custom hiring centres (CHCs) can play a critical role in providing equipment for crop residue management. Punjab aims to establish at least one CHC in each village.
The above measures could help ensure the availability of requisite machinery at affordable rates and with convenience.
Incentivizing stubble management:
There has been increasing calls for paddy straw-based power plants. Crop residue is being utilized through biomass-based power plants (bio-ethanol projects) and various bio-CNG projects.
The demand for biomass from such biomass based power plants could incentivize the farmers to sell bales to nearby factories.
Awareness campaign:
There has been a massive awareness campaign against stubble burning in the concerned states.
Apart from contributing to air pollution, stubble burning also has a detrimental impact on agricultural land. Making the farmers aware of this could help convince the farmers from retraining themselves from stubble burning.
Details:
Despite multidimensional interventions from the state administrations, stubble burning continues unabated in the north Indian states.
Recognizing the challenges inherent in ex-situ stubble management strategies, in situ stubble management strategies are being encouraged. The 'Pusa Decomposer' is one such solution.
Pusa decomposer:
'Pusa Decomposer' is basically a set of capsules containing a set of about eight types of microorganisms (fungi), essential to quicken the decomposition of the stubble.
These capsules need to be dissolved in water containing jaggery and chickpea flour and then fermented for three-to-four days. The liquid so obtained is to be sprayed in the farmers' field in order to decompose the left over biomass. The stubble gets converted into manure in the field.
Significance:
Pusa decomposer offers some notable advantages over other methods being used as discussed in the following figure.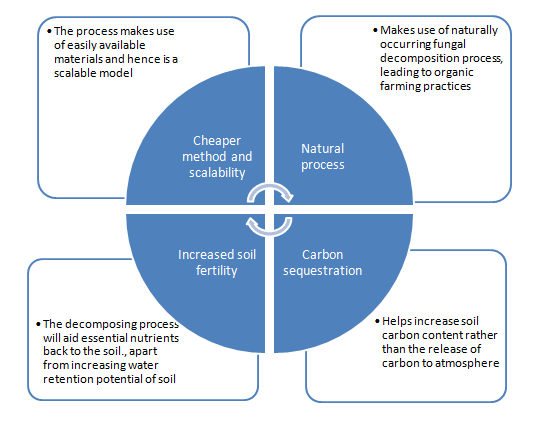 Way forward:
As field trials of the Pusa decomposer in the Delhi, Haryana region have been found successful, Pusa Decomposer should be tried in areas of Northeast India where 'slash and burn' (locally called 'jhum') is still followed (in Tripura, Arunachal Pradesh and Meghalaya).
---
Also Read –