Get in touch with us on for any help or Query, We will be happy to help you
Current Affairs 📰 Daily (CAD)
It is an initiative taken by the SSARP Study to ease burden from IAS Aspirants & save some time ⌚ to cover conventional section more, CAD is written by our expert team from various fields on daily basis for 10 topics, these topics are sorted by our AI design to judge the importance of topic depending upon the previous years paper question pattern & breakthrough of the news floated on various news websites 70:30 weightage.
CAD highly useful for IAS aspirants throughout the recruitment process of Preliminary Exam, Mains Exam & Interview while it is of utmost important for Preliminary exam.
---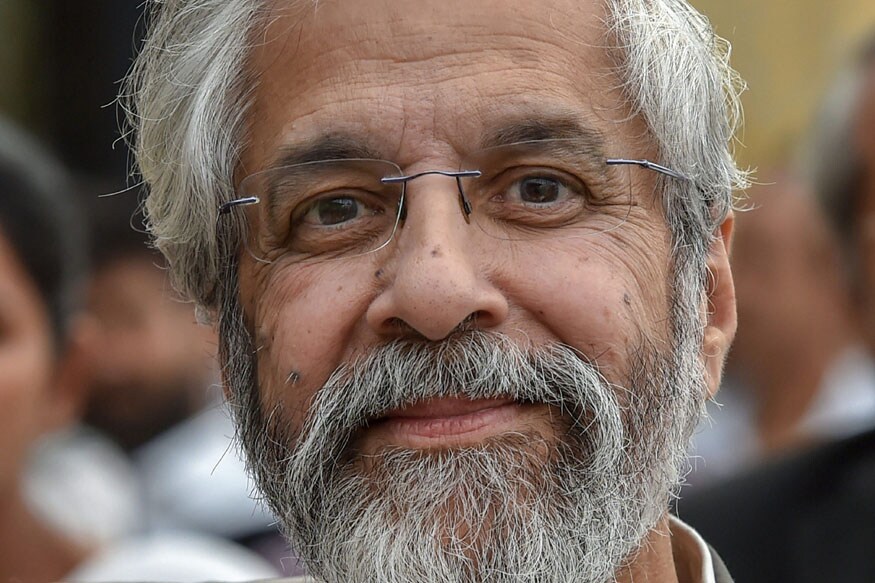 Du you Know ??
Justice Kuldip Singh came to be known as the "green judge" after he decided a number of PILs on environmental issues. Till his retirement from the Supreme Court in 1996, he passed crucial judgments on air pollution, including specifying norms for industries around the Taj Mahal.
News 📰
The Supreme Court has decided to keep in abeyance – its order appointing former Supreme Court judge Justice Madan B. Lokur to a one-man committee to monitor/prevent stubble burning in Uttar Pradesh, Haryana and Punjab.
About
On 17th October, A Supreme Court Bench led by Chief Justice of India (CJI) Sharad A. Bobde has appointed Justice Lokur as a one-man committee to monitor and prevent instances of stubble burning by farmers in the three states of Punjab, Haryana and Uttar Pradesh.
Justice Lokur was monitoring stubble burning for two years before his retirement.
Mandate –
Former Supreme Court judge Madan B. Lokur will be assisted by student volunteer forces deployed from the National Cadet Corps, the National Service Scheme and the Bharat Scouts and Guides, to protect Delhi-NCR from pollution caused by stubble burning in the neighbouring states of Punjab, Haryana and Uttar Pradesh.
Student forces will patrol highways and fields in the three states and ensure that no fires are started in the fields.
Existing mobile teams and nodal officers of the states will report to the committee.
The Supreme Court's own Environment Pollution Prevention and Control Authority (EPCA) would consult with the committee on issues related to stubble burning.
The committee will file status reports with the Court at least every fortnight.
---
News 📰
PM Advocates for the Responsible Fuel pricing at the inaugural session of the India Energy Forum
About
The PM opined that global energy producers must pursue more responsible pricing policies.
He said that India needs affordable and reliable energy sources.
He also highlighted the government's ambition to 'ensure energy justice'.
The PM listed seven key drivers of change on India's energy map:

Accelerating efforts towards a gas-based economy.
Cleaner use of fossil fuels, particularly petroleum and coal.
Greater reliance on domestic sources to drive biofuel.
Achieving the renewable energy target of 450 GW by 2030.
Increasing the contribution of electricity to decarbonise mobility.
Moving into emerging fuels, including hydrogen.
Digital innovation across all energy systems.

It was highlighted that the 2019 exploration and licencing policy has shifted the focus from revenue to production maximisation.
The PM also expressed plans to raise India's refining capacity from about 250 million metric tonnes (MMT) a year to 400 MMT by 2025.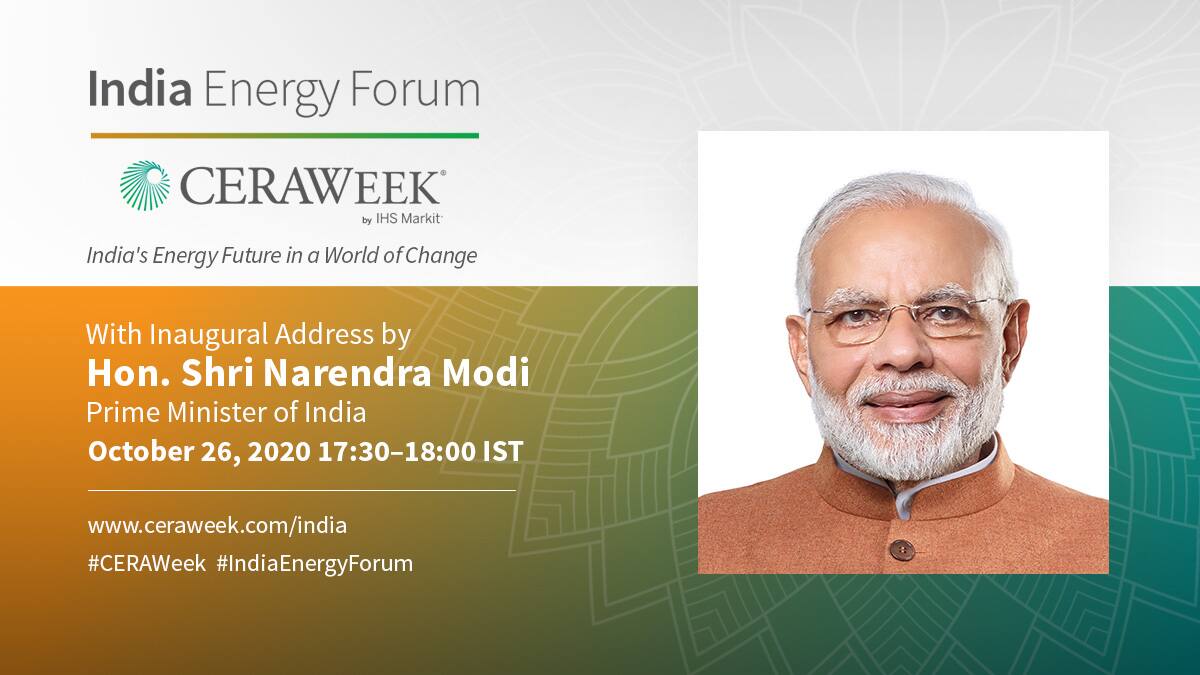 ---
Do you Know ??
Gelatin is a mixture of peptides and proteins produced by partial hydrolysis of collagen extracted from the skin, bones, and connective tissues of animals such as domesticated cattle, chicken, pigs, and fish
News 📰
IIT Jodhpur develops biodegradable electrical insulator with gelatin.
In Brief
In a breakthrough towards "green electronics", researchers at Indian Institute of Technology (IIT)-Jodhpur, have developed transistors with biodegradable gelatin as an electrical insulator, which may be utilised as breath analyser.
The changes in the property of transmitting electric force by exposure to moisture will enable the device to measure respiratory rate.
Natural protein gelatin, with a unique amino acid profile, for the fabrication of high-performance organic field-effect transistors.
The gelatin transistors reacted quickly with rapid response and recovery time under the humidity exposure test and acted as an effective sensor, on the basis of which they can be used as prototypes of human health and breath analysers.
Application –
Could be used as Breath Rate Analyser
About : Gelatin
Gelatin or gelatine is a translucent, colorless, flavorless food ingredient, derived from collagen taken from animal body parts.
It is brittle when dry and gummy when moist.
News 📰
Fast-moving wildfires forced evacuation orders for more than 1,00,000 people and seriously injured two firefighters in Southern California
In Brief –
Out of the six largest wildfires in California recorded since 1932, five occurred in 2020.
NASA's Earth Observatory has noted that wildfires were ignited in California in August after an "unprecedented outburst of dry lightning".
One reason could be that climate change is leading to more lightning storms.
About : Wildfire
A wildfire, wildland fire or rural fire is an unplanned, unwanted, uncontrolled fire in an area of combustible vegetation starting in rural areas and urban areas.
Wildfires can be caused by an accumulation of dead matter (leaves, twigs, and trees) that can create enough heat in some instances to spontaneously combust and ignite the surrounding area.
Wildfire Causes
Lightening
Human activity
Climate Change
Power Transmission lines
Do you know ??
The Fifth Assessment Report of the Intergovernmental Panel on Climate Change (IPCC), which was published in 2013, identified a few factors that could influence the way wildfires play out. These include global increase in average temperatures, global increases in the frequency, intensity and extent of heatwaves (breaching of historically extreme temperature thresholds) and regional increases in the frequency, duration and intensity of droughts.
---
Do you know ??
Indian National Center for Ocean Information Services is an autonomous organization of the Government of India, under the Ministry of Earth Sciences, located in Pragathi Nagar, Hyderabad.
News 📰
The Indian National Centre for Ocean Information Services (INCOIS) director has asserted that India is much safer against the threat of tsunamis than it was in 2004, owing to the state-of-the-art tsunami early warning system established in INCOIS
About
Currently, large under sea earthquakes can be detected in real-time and provide a tsunami warning in 10-20 minutes after the earthquake occurrence.
However, he warned that the best of warning systems could fail, if communities are not prepared, if they do not understand the official and natural warning signs of a tsunami, and appropriate and timely response is not taken.
He said that the focus in recent times has been on: Enhancing community awareness and response through several capacity-building activities.
Biennial Indian Ocean-wide tsunami drills.
Piloting of the UNESCO-IOC Tsunami Ready initiative to provide a structured framework to build and measure capacities of coastal communities to respond effectively to tsunamis, through 11 important indicators.
---
News 📰
Union Minister of Tribal Affairs will launch two Centers of Excellence for Tribal Welfare in a collaboration between Ministry of Tribal Affairs and Art of Living (AoL) on October 27, 2020.
About
The first initiative 'Strengthening PRIs' will be launched in 5 districts covering 30 Gram Panchayats and 150 villages of Jharkhand, in creating awareness among elected representatives of PRI about various Tribal Acts.
The second is about training 10000 tribal farmers in Aurangabad District of Maharashtra on sustainable natural farming based on Go-Adharith farming techniques.
Farmers will be helped in getting the Organic certification and the marketing opportunities will be made available to them to make each of them Atmanirbhar Tribal Farmers.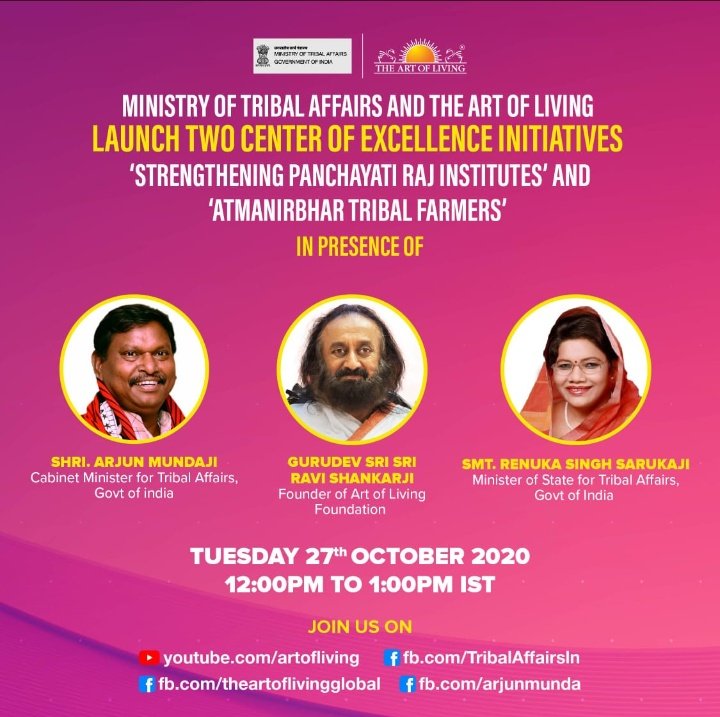 ---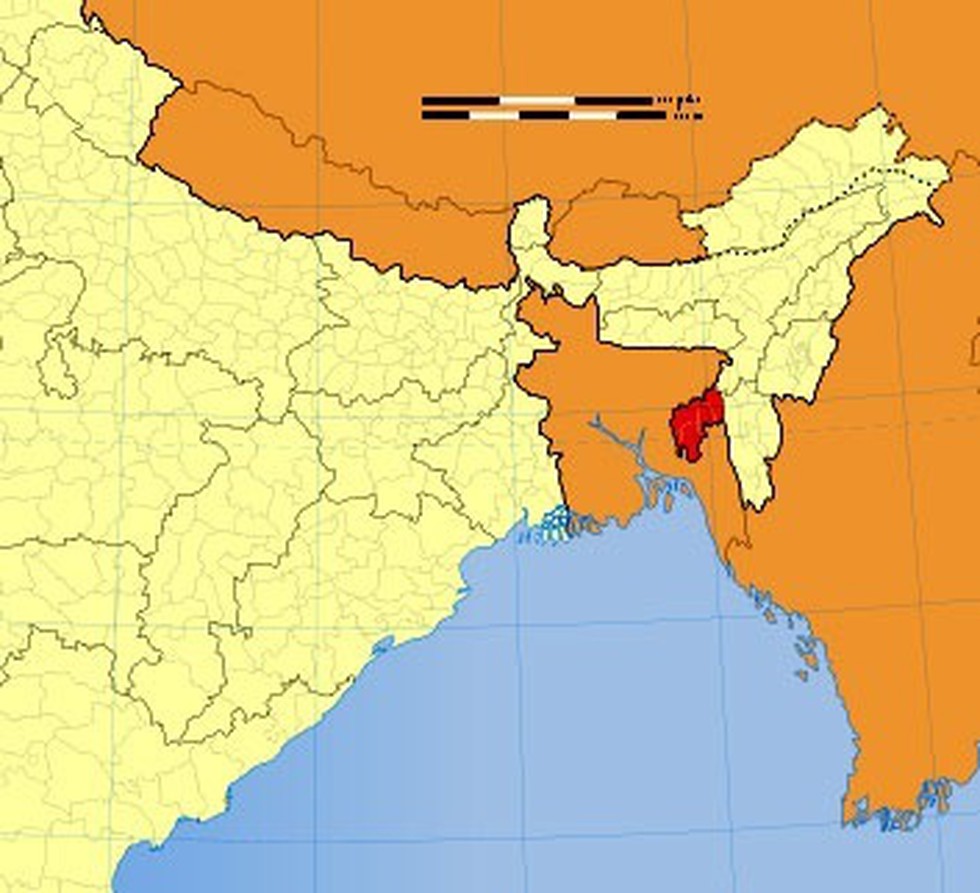 News 📰
Union Minister for Road Transport, Highways will lay the foundation stones of nine National Highway projects in Tripura on October 27, 2020.
About
The Projects, on completion, will provide faster and hassle-free inter-state and international connectivity to Bangladesh, and will be a major stride towards strengthening tourism sector of the State.
The Projects include: Jolaibari – Belonia of NH-108A
Kailashahar – Kumarghat of NH-208
Khayerpur to Amtali (Agartala bypass) of NH-08
Agartala – Khowai of NH-108B
Kailashahar to Kurti bridge of NH-208A
Manu-Simlung of NH-44A
RCC Bridge over river Muhuri & RCC Bridge over river Gomati
Strengthening of Churaibari-Agartala section with paved shoulder of NH-08
Geometric improvement on Churaibari-Agartala section of NH-44
---
News 📰
AIM (Atal Innovation Mission), in association with CSIRO, is organizing a two-day hackathon on circular economy, 'India–Australia Circular Economy Hackathon (I-ACE)', on 7 and 8 December.
About
The idea of I-ACE was conceived during a virtual summit on 4 June, between the Indian and Australian prime ministers, exploring innovative ways to boost circular economy in India and Australia.
The four key themes for the hackathon are as follows: Innovation in packaging reducing packaging waste
Innovation in food supply chains avoiding waste
Creating opportunities for plastic waste reduction
Recycling critical energy metals and e-waste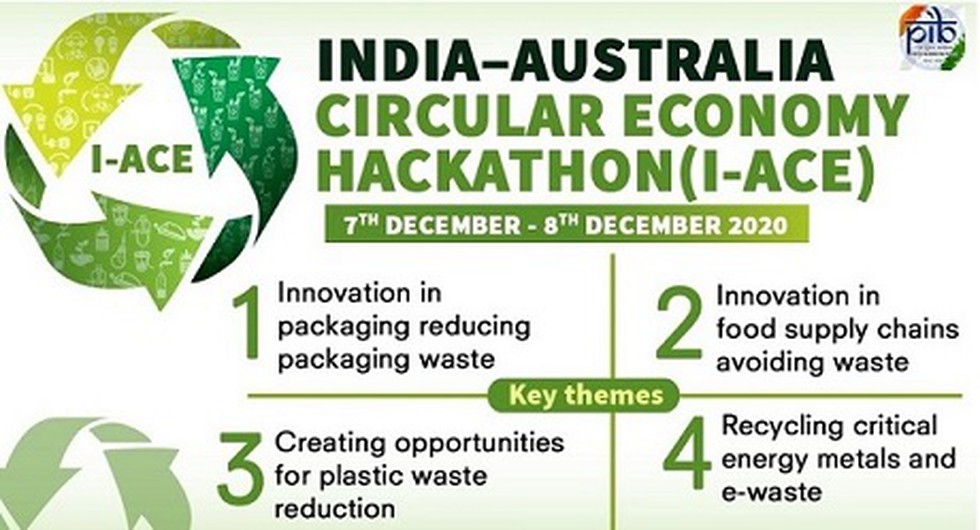 ---
News 📰
Union Minister of Personnel, Public Grievances, Pensions said that the male employees of the government are also now entitled to Child Care Leave.
About
However, the provision of Child Care Leave (CCL) will be available only for those male employees who happen to be "single male parent".
This may include male employees who are widowers or divorcees or even unmarried and may therefore, be expected to take up the responsibility of child care as a single – handed parent.
The orders regarding this had been issued quite some time back but somehow did not receive enough circulation in the public.
An employee on Child Care Leave may now leave the head quarter with the prior approval of Competent Authority. In addition, the Leave Travel Concession (LTC) may be availed by the employee even if he is on Child Care Leave.
Child Care Leave can be granted at 100% of leave salary for the first 365 days and 80% of leave salary for the next 365 days.
In case of a disabled child, the condition of availing Child Care Leave up to the age of 22 years of the child has been removed and now Child Care Leave can be availed by a government servant for a disabled child of any age.